Here's my horror. I wear a bodybugg daily (since I got it for Christmas) and I love the numbers it shows me. However, it has restricted me from wearing any arm-fitting shirts because of mah bat wings:
(My arm, October 2010...doesn't look much different today.)
Oh yes. Imagine having that upper tricep pinched by a bodybugg band all day...it's not pretty. Some of my favorite sweaters have been neglected, hanging lonely in the closet, because I want to wear saggier-sleeved shirts that will hide the double arm that's created by wearing the bodybugg. Ugh. Here's what it
should
look like: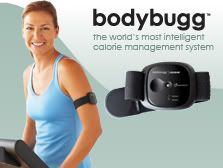 (No, that's not my arm...obviously.)
My question to all of you - will these freakin' bat wings go AWAY? I'm at 236 pounds now, down from 338 when I started, and I know the fat will go away in it's own time. I'm definitely smaller, and my bat wings have shrunken...I'm only 30 years old, and I hear that the sagging skin is more likely to shrink up in younger people. How many of you skinny people still have your wings? Anyone get surgery to remove them?
The bottom line is that I'm feeling more confident about every
other
area of my body - I still have curves and bulges, but fitting all of it into a size 18 pants and an XL shirt is a far cry from where I started in a size 28 pants and a 3X shirt. I feel cute...except for those damn arms.
Funny thing? When I was younger? My arms were my FAVE part of my body. They were constantly tan, toned...I just loved showing them off in tank tops. I loved summertime when I had an excuse to be out in the sun, wearing a tank top and reveling in the gorgeousness of them. Now? I still love tank tops, but they are for lounging around (out of public's view) only.
I miss thin arms :(.